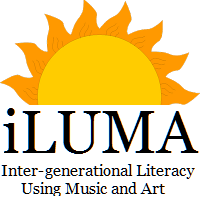 Season I Initiative
iLUMA pairs art, music, world culture and literature with reading comprehension.  Reading comprehension is assessed through a series of visual art activities where students draw or color their answers to questions about the story.  Programs are available in English, Spanish or French.
iLUMA is available for ages 5-105.  Each level gets a specialized storybook but the story and the music remains the same for all.  Preschool and kindergarten students get a storybook that contains the story and the illustrations.  1st-5th graders get just the illustrations.  Middle School and High School students get a blank storybook so they can create their own illustrations.  Adults for whom English is a second language get the story in English with the illustrations and seniors get the illustrations.
Stories are narrated live and contain live music that was originally created to for a stage version of the story. 
Peer Gynt- Norwegian tale of a lazy viking

Sleeping Beauty- French tale of a princess rescued from a witch's curse
The Nutcracker- Classical German holiday tale of a dream inspired by a gift
Hansel and Gretel- German tale of two siblings who escape an evil witch and save their father from poverty
Carmen- Spanish tale of a gypsy who enchants the heart of a Spanish dragoon
Treemonisha- African American tale of how education ends superstition in an early 20th century townIl Guarany- Brazilian tale of the turmoil between indigenous people and Portuguese settlers
The Little Mermaid- Danish tale of a mermaid who longs to be human
Aladdin- Persian tale of a poor boy who meets a genie
Aggayu and Shango- Nigerian Yoruba tale of of a long lost son finding his father