Season 7
Round 2: Spirit of Giving- Nutcracker vs. Rodeo
Tchaikovsky's joyful Nutcracker ballet paired with the happiest American ballet ever written, Aaron Copland's Rodeo.
Saturday, November 25, 2017 2pm Pompano
Sunday, December 3, 2017 1pm Sunshine
Round 3: Love Letters- Old vs. New
A presentation of three Tchaikovsky works about love: Romeo and Juliet, the Sleeping Beauty Waltz, and the Letter Aria from Eugene Onegin paired with the world premiere of a new work by Miami based composer Frederic Glesser
Saturday, January 13, 2018 2pm Pompano      Sunday, January 14, 2018 1pm Sunshine
Round 4: In the End- Battle of the final works
Tchaikovsky's final symphony and his only Violin Concerto is paired with Edward Macdowell's final two works.
Saturday, March 10, 2018 2pm Pompano         Sunday, March 11, 2018 1pm Sunshine
  Tickets are $24.99 for adults and $19.99 for students and seniors.  Children 12 and under free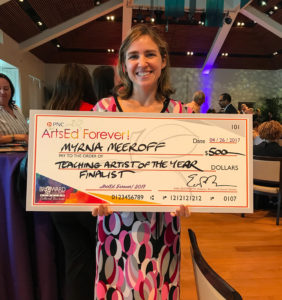 Congratulations to our own Myrna Meeroff who was named ArtsEd Forever 2017 Teaching Artist of the Year.